Your life is good now, and still, you want more.
It is the human condition to want more.
There is nothing wrong with it. This is normal!
But most people stop here, in the wanting stage, without great expectation of anything different. They believe and perceive that they are stuck where they are.
I fundamentally, positively, unapologetically disagree.
And I'm not alone. In fact, I have very good company. 😉
In this week's video, I "invite" one of the world's great masters to share a profound and life changing truth with you. (This is the beginning of what changed my life.) Here's where you can watch it now:
Now, this "two envelopes" concept discussed in this week's 8-minute video is something that some people will vehemently argue.
And sadly, those who argue about it are most always those who are holding "envelope #2" from the video!
Here's why: people who aren't where they want to be haven't yet been introduced to the mindset teachings that create Quantum Income Leaps (or any other leaps for that matter).
Because of this, they aren't quite ready to bend their minds around the idea that we are in partnership (or even responsible) for creating our life, our income, anything, despite the circumstances we were born with.
Let me say more about exactly what I mean.
Sometimes, when we don't have the things we want, it's easy to blame those circumstances outside of ourselves for our results. Like it or not, this is a passive stance to life (reactionary, or as some would say, even acting as a victim of existing circumstances).
And this is why some people aren't ready to hear this. They are committed to this stance.
(I know, it hurts to hear, as much as it hurts to write it. Please don't shoot the messenger…and stay tuned for good news.)
The opportunity is to understand that we are in partnership with our outcomes, as they are driven by our beliefs. This is THE most important teaching of our times. Because it means that when we change our beliefs…we change our results.
Everyone has this power.
Everyone has the choice of which envelope they want to open.
I've asked my awesome Team to make a printable of Hill's Expression of Gratitude for you to hang up if you wish to look at it often.
(Click the image below to open it in a new window so you can save it safely on your computer.)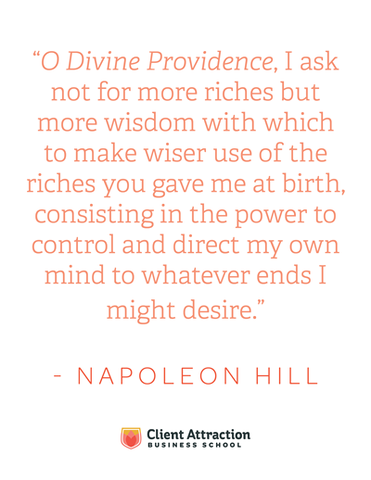 Will you put this into practice?

What is it that you want?
Will you write it down?
Also write down exactly what you are willing to give to manifest that which you want.

This is the beginning of your Mindset Shift.
Of course, I'd love to read what you write – share it with me in the comments section, OK?
Now go get manifesting, will you?!?! 😉
Let's activate your greatness,
Fabienne
p.s. I am in deep preparation for next week's Live Video Event (free) Training where I am going to go deeply into the topic of how to change your beliefs. I hope you are getting a glimpse into why this is such a vital topic. (Who wants to live an "Envelope Two" kind of life, anyway?? Not me and probably not you either.) More than 2,000 awesome folks have already registered, which makes me feel like we're doing something great in the world! Get your free ticket to the training here, OK? It's going to be AWESOME! 🙂