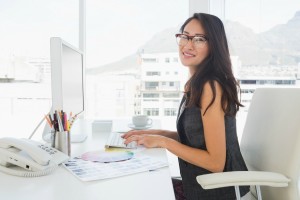 Are you currently tracking prospects and how they find you online? If not, start now. I can't emphasize enough how important this is for building your small business.
You need to know how prospects find you so you can turn up the dial on that marketing tactic,or maybe even start a new one altogether. Without knowing where your potential clients are coming from, it's impossible for you to know what's working and what isn't when it comes to both your marketing strategy and your online presence.
Here are two tactics for tracking your marketing results and understanding what methods are working for you.
1. Create a lead log
Whenever you speak to a new prospect, whether by phone or email, make note of it. I suggest that students make what I call a "tracking log" for all potential new clients. This way, all of the information is in one place. There are a few different options for tracking logs, including: a Microsoft Excel spreadsheet, a table in Microsoft Word, using software like Infusionsoft or ACT (for the high tech people!) or even just a pen and paper. It doesn't have to be fancy – it just needs to work.
Each time you get a new bite, consistently ask every caller (or emailer) how they found you. If they don't remember specifics, make note of what they do recall. Perhaps they read an article on the web, stumbled onto your site while surfing or were referred to you by a friend. Even ask them what keywords they typed into Google, but just be careful not to push. You don't want this to seem like an interrogation! With time, you will start to see patterns letting you know which marketing tools are the most productive. Then, concentrate on those techniques.
For example, if you discover that most of your new clients come from referrals, you might want to establish a referral program, such as offering an incentive to anyone who sends you a potential new client. Announce this in your networking groups and let your clients know as well that they will be rewarded when a new customer signs up.
2. Install Google Analytics
Make sure your website has Google Analytics installed. This is a free service that tracks your website's statistics and analyzes traffic patterns and visitor behavior. With Google Analytics you can find out your most popular landing pages, which sites refer the most traffic to you and which keywords people use to find you when searching for answers to their problems. If you don't know how to set this up or read the data, hire someone who does so you can benefit from the information.
Once you have a better idea of how your potential and existing clients are using your website, you'll be able to further improve these areas to leverage them even more and improve your pages that under perform. Find out how many visitors return to your site and what percentage of people are new. All of these factors can contribute to improvements in your website and your online marketing, as well.
Your The Leveraged Business Assignment
What tracking system do you have in place to know which marketing tools are delivering the results you need? If you don't have a system, it's time to create one. It's okay to start small! Once this becomes a solid habit, you can expand to gather more details. Then be sure to look at your results quarterly so you know where to focus your time and money.
This is just one of the many best practices we dive deep into with the students of The Leveraged Business Business School, the premier training school for growth-minded entrepreneurs looking to quickly attract more clients and make more money. If you're interested in finding out more, visit www.ClientAttractionBusinessSchool.com for more details. To speak to an enrollment coach, click here.