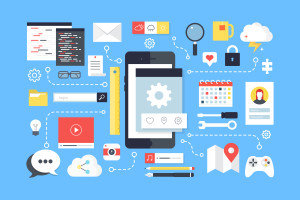 I'm thrilled to introduce you to one of our standout coaches of The Leveraged Business Business School™, Jen Levitz, The Strategic Automation and Marketing Consultant for Automate With Love. Please welcome Jen as a guest contributor to the The Leveraged Business blog. As always, we'd love to hear your feedback. Please post your comments and questions below. ~ Fabienne. Connect with Jen on Facebook here.
When it comes to marketing automation, the first big question is usually: "What system should I use? MailChimp or AWeber, GetResponse or ActiveCampaign, Ontraport or InfusionSoft?" The truth is that if you're focusing on the technology, you aren't focusing on the right thing. You see, the technology is just a tool to help you get a specific task done.
Here is what I'd like you to do instead. Think of your automated marketing system as the first employee you are going hire for your business. The job title is going to be "Director of Customer Relationships."
Now before you hire someone – and even before you start to interview candidates – you'll need to figure out what exactly this role entails in your business.  And ideally, you'll look at what your business needs now and what it will need in the next 12-24 months.
You see, just like a real person in your office, your automation system is going to need some training in order to be able to do the job you want it do. And if you are going to be investing resources in training, your candidates should be able to handle your business as it grows.
One of the best tools for this process is to create a flowchart that will map out your current customer experience. This will allow you to follow the flow of an ideal client from when they join your email list all the way through when they buy a product.
Everything you do to serve your ideal client should be on this flowchart or map. This includes phone calls, emails or even manual tasks like sending a gift once they hit week 4 of your program.  A side benefit of a super detailed map is that you can see where you can improve in order to create even more sales and build even better relationships with customers.
What also happens in this process is that you discover the features of the software that you need to have in order to successfully automate your client experience.  Because you will know what you need, you will feel empowered as you interview different software companies.
So you see, the brand of software that you use for your marketing automation is really not as important as first knowing what you want to do with it.
Your Automation Assignment
Have you mapped out your client experience yet? Make a flowchart or map so you can start identifying opportunities for better sales and ways to build better relationships with customers.  Also note that your customer experience map isn't static. It's dynamic and changes over time. This means that it will need to be changed and updated from time to time.
Jen Levitz is a Strategic Automation & Marketing Consultant and founder of Automate With Love. Through her workshops, courses, speeches, and coaching programs, Jen helps her clients to effectively use technology to build strong client relationships and sustainably grow their businesses. She integrates and optimizes technology systems so that rapidly growing businesses can launch successful marketing endeavors throughout the globe. To hear more from Jen and learn how to serve more clients, make more money, work less hours, and have more fun, visit: www.AutomateWithLove.com