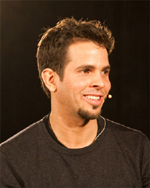 Join Fabienne and Nicolas Ortner for this conversation about inspiration and courage, while you discover "best practices" on how to play big – in your business and your life. Enjoy!
Nicolas Ortner is the CEO of "The Tapping Solution," and Creator and Executive Producer of the breakthrough documentary, "The Tapping Solution," which explores EFT or "tapping," a healing tool based on ancient Chinese acupressure and modern psychology. Nick and the Tapping Solution team are committed to spreading tapping throughout the world, and particularly to supporting its revolutionary and world- changing usage. They've raised over $250,000 for tapping-related charities such as ProjectLight: Rwanda, which aids genocide victims in that country (ProjectLight.com), The Veterans Stress Project, for veterans with PTSD (stressproject.org), and You Can Thrive! for women with cancer (youcanthrive.org).
He has a new book, The Tapping Solution: A Revolutionary System for Stress- Free Living coming out in April 2013, published by Hay House. He lives in Newtown, CT with his wife, Brenna.