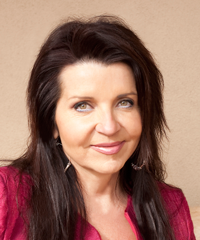 Join Fabienne with her guest Colette Baron Reid for an inspiring conversation on how to play big – in your business and your life. Enjoy!
Colette Baron-Reid is an internationally renowned intuitive counselor educator, and #1 best-selling author who helps others recognize and connect with their own intuition, potential, and purpose. For the past 23 years in a practice that has been built strictly by word of mouth, Baron-Reid has advised more than 50,000 clients. She has also toured for years as the opening speaker for inspirational publishing giant Hay House, providing insightful and compassionate messages as an intuitive counselor and life strategist in front more than 150,000 people, in 150 cities, spanning 29 countries.
A popular guest on radio and television, also noted as a contemporary new thought leader, Colette Baron-Reid also hosts her own weekly call-in program on CBS radio/the Sky where she takes calls from people all over the world and guides them with her trademark humor and loving delivery style. She has been featured on Dr. Phil, The Doctors, Oprah and Friends with Dr. Mehmet Oz, George Noory's Coast To Coast, and many other programs.
Colette Baron-Reid is the author of Remembering the Future: The Path to Recovering Intuition and Messages From Spirit: The Extraordinary Power of Oracle, Omens, and Signs. She is also the creator of 4 unique and original oracle systems translated in 15 languages;-The Wisdom of Avalon Oracle Cards and Wisdom of the Hidden Realms Oracle Cards, The Enchanted Map oracle cards, and Wisdom of the House of Night oracle with YA author PC Cast. Her #1 selling book The Map.. Finding the Magic and Meaning in the Story of your Life, is translated in 25 languages.
Her latest book Weight Loss for People Who Feel Too Much, helps sensitive "tuned in" people with weight issues.
Colette is also the founder of the Master Intuitive Coach® Institute, a collaborative, fun, mutually supportive community of certified Intuitive Coaches, whose programs based on the groundbreaking IN-Vizion® Process is taking the personal development and coaching world by storm.
When she's not touring as a speaker, on TV, teaching, doing private readings, coaching and writing, you can find her hanging out with 2 teeny Pomeranians or riding her Harley with her hubby.
Listen to this Master Class today!
Subscribe to "Play Big Master Class" podcast on iTunes or download the mp3 here: