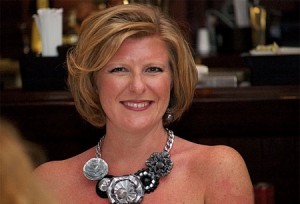 Thank you for your incredibly heartfelt birthday messages this past week. I'm humbled to receive all this love and I am so happy to have you in my life. For years I've been dreaming about how to make this milestone birthday memorable (you should have heard the ideas!) In the end, Derek and I ended up creating the most magical, warmest and most fun event I could have imagined.
I invited my 35 closest friends and family to come to the event dressed in all white. It looked and felt like a wedding! We started with a signature cocktail on the lawn overlooking the water, passed hors d'oeuvres and a full raw bar — my favorite, including a massive ice sculpture. Then we moved inside for a seated dinner (all white and platinum décor) and enjoyed lobster, truffled mushroom risotto and a ton of impromptu toasts and laughter. Then, we moved the entire party to our home, with massive Cuban-style red flowers, bite sized Latin-inspired desserts, mojitos and salsa music, and Eddie the dance instructor who taught us all how to salsa and led a massive dance party on the patio. I had so much fun that I forgot to put on my red dress and a red flower behind my ear. Oh well.
We didn't stop the party until at about 2:30am. It was truly memorable and I know for sure that no one, especially me, will ever forget this night. So you too can experience some of the fun, I'll be posting photos, along with videos of some of the toasts my family and friends made during dinner, on Facebook.