I'm flying sooooooo high!
Just got home after wrapping up my three-day Mindset Retreat in Florida.
While my body is physically tired (I napped 3 times this weekend!), my heart is bursting with joy.
The feedback from the 350+ attendees, about how life-changing the Mindset event is, was incredibly moving for me, as it is every year: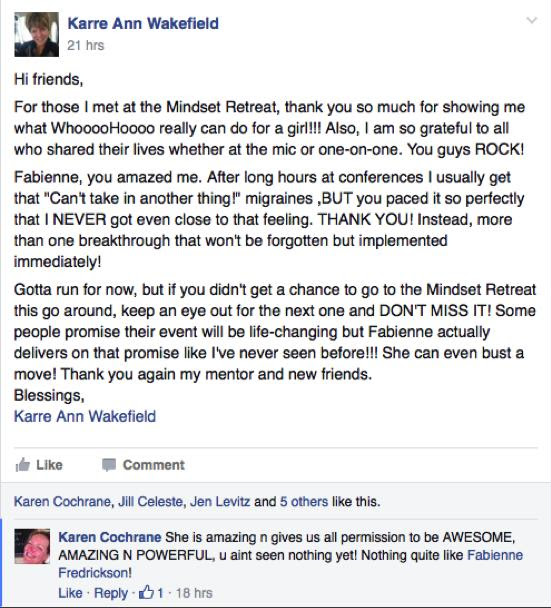 And together, the attendees and I increased the number of schools we're building in Kenya, Africa to a total of 16 schools, educating thousands of children who would otherwise never experience the life-transforming power of an education, clear water, medical attention and nutritious meals daily.
As I hugged each of the hundreds of attendees good-bye, many told me with eyes welled up in tears that this event will have a lasting impact on them, for the rest of their lives.
Hey, just checking, were you able to join our livestream session on Friday?
I made available a session of the event as a sneak peek, behind the scenes, "backstage pass" for those interested in learning a little more about Mindset Retreat and its results, even though they couldn't join us. Did you see us live?
If not, because many are asking, we have the recording of that session for you here:
Just click here and you'll be directed to the "live session from stage" replay.
I hope you take advantage of this peek inside the Mindset Retreat event and GET INSPIRED!
And maybe, just maybe, I'll see you there next year or perhaps we'll even start working together before then? 😉
Have a great day, and let me know what you think of the broadcast!
Hugs,
Fabienne
p.s. During this session, I invited some students from The Leveraged Business Business School™ to share their inspirational success stories on stage. I hope these stories inspire you too and remind you that anything is possible when you step up to change your mindset and play a bigger game.
I believe every entrepreneur needs that reminder from time to time – so this is my gift to you. Enjoy this session!