For the first half of my career in coaching entrepreneurs to become more successful, I told people that silver bullets and magic pills don't exist.
I told all my clients that your entrepreneurial success depends only on consistency, sheer effort, blood-sweat-and-tears and willful determination.
That elusive Magic Pill?!? Nope. Doesn't exist and never will.
Stop asking for a magic pill!, I would tell people.
But then I experienced a transformation in my own business. Something I never expected.
The following quote by Napoleon Hill finally made sense to me, because it happened to me: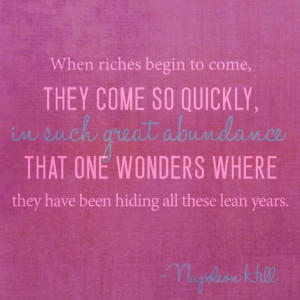 Something amazing happened (I'll tell you about it in a video I'll be sharing with you in a few days) and I realized that there was indeed a way to put everything I'd been teaching and doing myself on overdrive.
That was the beginning of the journey that helped me turn my yearly income into my monthly income…
…with authenticity and integrity, of course.
And so, because it worked so dramatically well for me, my clients began asking me about it.
And so, I began teaching this Magic Pill to them…and at some exclusive events.
Do you know what "it" is???
I will tell you about it shortly. And as far as I can tell it is the closest thing to a magic pill that there is.
But I don't want to keep this to my inner circle anymore.
It's time to share the wealth, literally!
So, this loving note is just a heads up that over the next few weeks, you and I are going to be doing a deep dive into the leading-edge tools you need to turn the most you've ever made in a year into your monthly income.
You'll be receiving LOTS of great content from me in the coming weeks, and it's all culminating in a very special LIVE VIDEO EVENT on Friday, February 12th at 11:00 a.m. Eastern (New York) Time.
Oh, and this training is totally free. No charge, nada, zip.
My gift to you.
(More details coming soon, but for now mark your calendar for this date now, OK?)
And in the meantime…
Dig deep and dream big. You're going to be receiving amazing tools you can use to shatter that glass ceiling you've been staring at.
Have a wonderful weekend,
Fabienne
p.s. Keep an eye on the blog this Tuesday… I'll be sending you a special invitation to join me. 😉