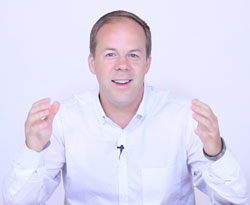 As you know, one of the best ways to attract more clients and make more money is to have a large email list of highly qualified prospects who need your services. In this video we're going to talk about using paid advertising (or more specifically, pay per click advertising) to build your email subscriber list.
Pay-per click-advertising is when a potential lead or client clicks on your ad on websites like Google or Facebook and you pay for that exposure based on the number of clicks on your ad. Ultimately the click will drive the visitor from your ad to your website so you can build your list or sell your product.
PPC advertising when done with authenticity is one of the best ways to attract many more ideal clients. (Click here to tweet this.)
You might be saying, "Oh no – paid advertising? Is that really Client Attractive, Derek? I mean the idea of 'paying real money' for that type of exposure to get my message out there and attract more clients seems kind of yucky."
Well, I'm here to tell you the opposite. Watch this week's video so I can show you how and why pay per click advertising, when done properly and with authenticity, is one of THE best techniques to attract many (and I mean many, many) more ideal and highly qualified leads and clients to you – consistently. I'll also share with you my three biggest reasons to consider it for your own business.
Your Client Attraction Assignment
Ask yourself, "Is it time to consider a pay-per-click advertising campaign as part of my Client Attraction marketing and list building strategy?" If you've had some success in building your list using more traditional methods and looking to ramp up even more of your leads into your funnel, consider including PPC as a way to take it to the next level.
If you have the revenue stream set up and in place to monetize the expense of a simple ad campaign, it can very quickly and efficiently build your list with more ideal and highly qualified leads and clients.