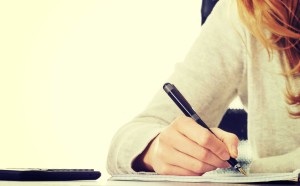 Many of my students want to know how to squeeze writing into their busy workday, as it's very difficult to find the time to work on a book while working full-time. So, I want to share how I have done this and what I have found to be the most effective process.
My initial method was chaotic
When I was writing The Client Attraction Home Study System, my business was booming and I was pregnant at the time. Obviously, I had a lot on my plate. Because of everything else going on, I initially tried to write here and there when I could fit it into my schedule. Unfortunately, this was not the best process for me, as I discovered that too much time between writing sessions made me unproductive when I did sit down to write.
Whenever I would find time to get back into things, I found myself wasting precious moments (and sometimes hours) rereading my previous words in an effort to pick up where I left off. I grew frustrated with my inability to jump back in and was tired of having to constantly re-familiarize myself with my voice and the ideas that I was trying to convey. I quickly realized that this system was not only not working, but it was truly a waste of my time.
Establish a writing schedule
Once I realized that my "write when you can" method was not working, I decided to try a more regimented schedule. I committed to writing on a regular basis, so I wrote every Monday through Friday from 6:30 a.m. to 9:30.a.m. I would leave my office so there were fewer distractions and interruptions, and go to Starbucks or a local diner. I chose places that were welcoming of customers with laptops (hello, free WiFi!), and where I could have a cup of tea and comfortably type on my laptop for a few hours. Every day, for those three hours, I forced myself to write.
Usually the first twenty to forty-five minutes were slow and uninspired. I would procrastinate by checking my email and catching up on the news. But once I finally settled in and felt caught up on where I was when I last wrote, I was able to dedicate myself completely to my work. With no distractions or thoughts looming over my head, I was able to produce quality content at an amazing rate. Plus, I still had the whole day ahead of me and did not have to worry about my writing interfering with my day-to-day work.
Take time off
Eventually, I decided to take two weeks off and make writing the book my sole focus. Without the distractions of work, I was able to get my writing finished in no time. While it was the best choice for me at the time, as I was under a deadline, I understand that taking time off is not a luxury everyone can afford. However, if you can make it work, it's definitely an option worth considering.
Determine your best time of day to write
For me, I happened to write best early in the morning, but everyone is different. You'll need to figure out the time that works best for you. I recommend trying different blocks of time in the morning, afternoon or late at night in order to discover when your creative juices flow easily.
Your Client Attraction Assignment
Do you have a writing project that's been on the back burner for a while? Dust it off and schedule blocks of time for writing. Give yourself a deadline to finish. That's really important. If you don't have a deadline, then there is no reason to focus on the project, stick to your schedule or feel the pressure to complete it. Make it real and give yourself a timeline. Think how happy you'll be when the project is done! Happy writing.
This is just one of the many best practices we dive deep into with the students of The Client Attraction Business School, the premier training school for growth-minded entrepreneurs looking to quickly attract more clients and make more money. If you're interested in finding out more, visit www.ClientAttractionBusinessSchool.com for more details. To speak to an enrollment coach, click here.