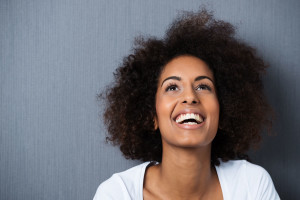 From time to time, we all struggle with mindset problems. I remember one on my students, Cindy, talked about feeling like a magnet for bad luck. Her daughter was in a car accident. The car was out of commission and needed a lot of work. Her roof started leaking. You know the drill.
Cindy was having a hard time seeing the good in her life. She knew she still had plenty to be grateful for, yet felt overwhelmed by everything that was pulling her down.
I shared what Derek and I do to create a positive focus. You don't have to follow this exactly, but this is what works for us. After the kids are in bed, we pour a glass of red wine, take a seat, look at each other and one of us says, "Positive Focus." The other says, "Positive Focus: we got a new client today." Then each person adds another item that went well or that is something to be grateful for. "I got my hair cut today and it looks great."
If it's a hard day and there's a struggle to find something, we help each other to get the ball rolling. Derek might say to me, "You've got to think of something." So I respond with, "I'm married to a great guy." Often we start with the basics, which are great to lean on when funky things happen:
You've got your health
Your car is running well
You had a yummy lunch
You are breathing and alive
You own a home
You have great kids
You paid the rent
You get the idea, right? These fundamental elements of life are frequently taken for granted, but are worthy of your appreciation. Focusing on them will shift your energy back to a positive place.
This is also a good exercise to use for times when fear shows up. For example, a funky thing happened with our finances once and woke me up in the middle of the night. I wrote in my journal and made a list of all the things I was grateful for. This was really like counting my blessings, and it definitely shifted my energy so I could calm down.
The Positive Focus exercise is about gratitude. Share this with your business partner, life partner or do it on your own. This practice is not just lip service. I promise you that doing this will shift your energy and give you the positive focus to help you feel more optimistic. Derek and I do this every day.
Your The Leveraged Business Assignment
Get a new notebook (or simply pull out a piece of paper) and make a list of everything for which you are grateful. Or, try the Positive Focus exercise with your partner every evening as you wind down from the day. This is a powerful practice and a strong affirmation to the Universe that you appreciate all the good things that come your way. It will set up your energy for greater success and on a tough day, will help you get through it.
This is just one of the many best practices we dive deep into with the students of The Leveraged Business Business School, the premier training school for growth-minded entrepreneurs looking to quickly attract more clients and make more money. If you're interested in finding out more, visit www.ClientAttractionBusinessSchool.com for more details. To speak to an enrollment coach, click here.