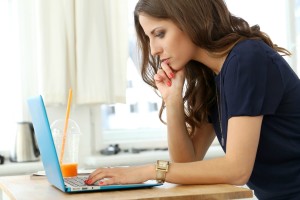 Are you feeling the pressure to send out your company newsletter more frequently? Many of our students feel the need to push themselves into a biweekly or even weekly regimen. While there is no question that keeping in touch with your community is really smart marketing, your newsletters shouldn't completely monopolize your time.
The good news is that – especially for new businesses – you don't need to pump out a ton of content in a short amount of time. In fact, slowly increasing the frequency of your newsletter is a better approach. The last thing you want in your attempt to build relationships with prospects is to overwhelm them suddenly with tons of emails.
Instead, feel free to move slowly and go step-by-step. For example, if right now you only send out about six newsletters per year, try pushing that number up to twelve per year, or once a month. Or, if your newsletter is monthly, go for every other week. This gives you a chance to slowly work up to greater frequency, while still sending at a level you can maintain.
From my experience, I've seen too many people jump aggressively to a weekly newsletter and then back away because it's too much of a challenge. Oftentimes, it can be difficult for new business owners to think of new topics to write about, and if they take on too much too quickly, they can burn out.
A great way to get going on your newsletter initially is to come up with a format that feels realistic. Perhaps you provide a technique or strategy for the first email of the month and share a client success story for the next. I recommend coming up with your own editorial calendar. Planning out the topics for three months at a time actually is a huge time saver in the long run. It helps to plan out your content.
Once the bi-weekly newsletter is going like clockwork, then you can move to a weekly publication. You may find that between the editorial calendar and choosing a good format, the newsletter becomes a breeze. Just know you don't need to move to weekly emails unless you feel you can handle the increase comfortably.
Your The Leveraged Business Assignment
When was the last time you looked at your newsletter strategically? It makes sense to freshen up your newsletter every so often. You might need a new design or to rethink the content. Lastly, do you offer a special or use a call to action that encourages readers to contact you? Don't miss out on prompting people to buy or hire you while you are sharing your amazing knowledge.
This is just one of the many best practices we dive deep into with the students of The Leveraged Business Business School, the premier training school for growth-minded entrepreneurs looking to quickly attract more clients and make more money. If you're interested in finding out more, visit www.ClientAttractionBusinessSchool.com for more details. To speak to an enrollment coach, click here