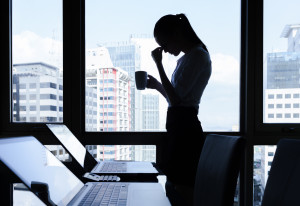 Have you ever had a client stop working with you before you completed the project or were finished with your goals? This is not an easy thing to handle and sometimes business owners take this hard. Your ego gets bruised from rejection of this kind.
Well, you're human so it's not surprising that you felt the sting. Sometimes clients do not want to finish your program and ultimately it is their decision to make. However, how you handle this is essential to building a business with a good reputation and staying in good standing. Below are four suggestions to help you work through the abrupt end of a work relationship.
1. Take the high road
Above all else, you must handle this ending in a positive, professional manner. Be polite, maintain an even keel and stay calm. You want to part ways with good feelings as much as possible to end on a good note. How you handle the exit leaves a long-term mark, so take the high road whenever you can. Send your client love and wish them the best in the future.
2. This too shall pass
Positive self-talk can help you move past this rejection quickly. It might feel personal, but often your client's decision is all theirs and has little to do with you. Some people aren't ready for success or to do the work needed to get the results they want. This resistance can put a strain on your working relationship and manifest as missed appointments and unfinished homework, among a myriad of other things.
3. Review feedback honestly
If you did receive specific feedback, take time to think about it carefully and evaluate if there is any truth in it. Put yourself in the client's shoes to see if there is room for improvement. You might actually discover something that changes your process, product or service for the better.
4. Therapeutic exercise
Derek and I have both done this exercise. Go into your email, click on compose and type "Working together" into the subject line. Then, draft an email about what you wish you could say to them. Talk about how you felt, what you liked, what you didn't like and what hurt. There's no need for blaming or accusations, but present your case.
Do NOT send the email – it's just for you. This works like a catharsis to get it off your chest and help you let it go. Save it to your drafts or delete it, but make sure you do not hit send. You could also do this in a word document. This is a great way to move on and express yourself without any repercussions. You'll feel better right away, or the very next day.
Your The Leveraged Business Assignment
When a client leaves unexpectedly, that might be a good time to review your process. See if you can come up with a step that can be inserted before leaving. Perhaps you add something to your policies about ending the relationship so you address this before it happens. That extra step might give you the chance to turn things around.
This is just one of the many best practices we dive deep into with the students of The Leveraged Business Business School, the premier training school for growth-minded entrepreneurs looking to quickly attract more clients and make more money. If you're interested in finding out more, visit www.ClientAttractionBusinessSchool.com for more details. To speak to an enrollment coach, click here.