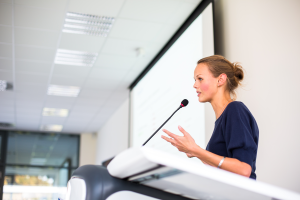 Speaking provides a great opportunity to connect with new prospects and build awareness about what you do. When you are first starting out, I recommend taking every speaking gig you can get. That's what I did when I was building my business.
Any speaking gig offers a chance to connect. Sometimes people will offer you a less time that you need to make your whole pitch. Maybe the venue isn't optimal for giving a presentation. Maybe the people aren't entrepreneurs or are a mixed crowd when you prefer all women. Don't let that bother you. This is still a chance to practice speaking, hone your presentation and connect, because you simply never know what could happen.
As your business grows, you can become more selective and say no to some offers. You can even choose just the "cream of the crop" presentations if that's what you want to do. It's okay to be picky when you have plenty of business. But when you're starting out, take every speaking opportunity that comes your way.
Even one new client increases your income. If you are starting out, you know that even one new client can be a huge addition to your business and revenue. However, to make the most of even a short presentation, you do have to approach it with the right mindset.
Your attitude about the speaking opportunity is everything! If you know me, then you know I believe mindset is 90 percent of your success. For instance, if you have a chip on your shoulder and think a particular speaking opportunity of only 10 minutes is a waste of time, you can count on being right about that. Your mindset completely influences your experience. It also impacts how others experience you.
Think about how you can be of service. What I suggest is to change your vibration about the gig from resentment or annoyance to this empowering thought: "How can I be of service?" Decide that you are going to give attendees so much value that they'll walk away like changed people. In this way, you will make a good impression, share your brownies, practice speaking and possibly make some really strong new connections.
Speaking of speaking opportunities, I'd like to invite you to a presentation I'm giving at InfusionSoft's annual conference for small business owners called ICON. It's being held this March 31st – April 2nd in Phoenix, AZ, and my workshop is all about how to attract your ideal clients, authentically and consistently, and how to incorporate InfusionSoft into your The Leveraged Business systems. If you'd like to join me live at ICON, click here to buy a discounted ticket. Be sure to use to promo code "fabienne" at checkout to receive 10 percent off your registration.
Your The Leveraged Business Assignment
If you had only 10 minutes to deliver a presentation about your business, what would you say? This is a great exercise to cut out all the fluff and focus on what will have the biggest impact. How can you offer amazing value in a short presentation and make it memorable? When you get your speech down to just 10 minutes, you know you're at the core of what you have to offer.
This is just one of the many best practices we dive deep into with the students of The Leveraged Business Business School, the premier training school for growth-minded entrepreneurs looking to quickly attract more clients and make more money. If you're interested in finding out more, visit www.ClientAttractionBusinessSchool.com for more details. To speak to an enrollment coach, click here.