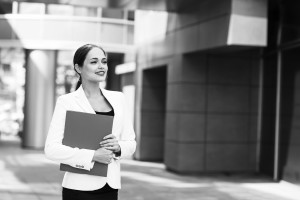 Speaking in front of groups is a powerful marketing method that helps you connect with potential customers. The audience gets a sample of who you are and what you have to offer, and they get the chance to get to know, like and trust you. People listening will learn about your methods and knowledge.
This is why I so frequently recommend you give presentations whenever possible. Over time, the more speaking you do, the more opportunities will show up as people refer you for speaking engagements. For some speaking gigs, the meeting planner will ask for your Speaker Kit or Speaker Sheet, so you it's necessary to have that prepared.
What's Included in a Speaker's Kit?
Professional speakers have kits that are many pages long, because people are paying them the big bucks and need to know specifics. For most purposes, a one page, two-sided sheet will be sufficient. Here is a guide of essential elements to include:
Page #1
Compelling Headline. Use your name and include a compelling reason or main benefit of why someone would want you to speak to his or her group or organization.
Professional Headshot. A good photo is vital to appear professional – don't shortchange yourself by using a poor-quality image.
Brief Bio. Let people know you are the expert on your topics and include any media exposure you have received to show you are experienced.
List of Topics. Provide a few of your hottest presentations with titles and a short description.
Call to Action. Write a short call-to-action line at the bottom of Page 1 and provide your contact information and website.
Page #2
Headline about Audience Experience. Tell people how audiences react to your presentations. Do you leave people feeling inspired, ready to take action or with new creative ideas?
Photos of your Books or Products. Pictures of books or products are so much better than more words. Use a subheading that sums up these items. If you don't have this, don't worry.
Social Proof. A few testimonials from people who have booked you to speak or who have been in the audience can make a huge impression on the next person to schedule you for a presentation.
List of Clients or Speaking Gigs. Where have you given a presentation? Put the most impressive groups first to capture attention quickly.
Call to Action. You can use the same short call-to-action line at the bottom of the page.
Once completed, you'll want to post your speaker sheet on your website as a downloadable PDF. Now you are ready for the big opportunity coming your way!
Your The Leveraged Business Assignment
To create a professional speaker sheet, I recommend you work with a graphic designer. Don't risk making a poor impression by putting something together yourself. A strong graphic presentation goes a long way for proving credibility.
This is just one of the many best practices we dive deep into with the students of The Leveraged Business Business School, the premier training school for growth-minded entrepreneurs looking to quickly attract more clients and make more money. If you're interested in finding out more, visit www.ClientAttractionBusinessSchool.com for more details. To speak to an enrollment coach, click here.