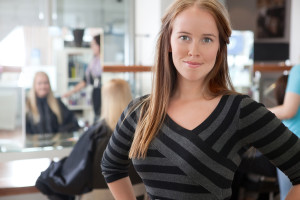 As your business starts to thrive, you will need to learn new skills that are necessary for managing a growing company. At this point, when you are moving into unfamiliar (albeit exciting) territory, you might start to question yourself and wonder if you can really handle this.
Though your confidence might begin to falter, don't worry. It's completely normal and is something that all business owners have experienced at one time or another. After all, owning a business is hard, and it takes guts, perseverance, confidence and the acceptance of the unknown. As a new business owner, you will question yourself a lot. But hang in there – this is common.
Whenever I worry about the future or begin to wonder if I'm prepared to take my business to the next level, I take a step back, take a deep breath and remind myself that not only is this a situation that I've found myself dealing with in the past, but it's one that I will again experience in the future. There have been, and will be, many bumps in the road, so it's important to jump the hurdles calmly and with a positive attitude.
Luckily, as I mentioned before, all new business owners experience similar issues, and so I've provided you with a few key steps to solving any issue that may come your way. Remember, we've all been there! You are not alone.
Ask for support

Whenever I experience a seemingly impossible business (or personal!) problem, I always reach out to people in my life for support. While my general go-to is a spiritual teacher, other helpful listening ears might be a friend, a parent, an academic or professional advisor or a counselor. I often find that simply talking out the problem with another person allows me to see the issue in a new light and I am able to walk away from the conversation with a new understanding of what the problem is and how to fix it.
How to Help Yourself
If talking it out with another person is not a preferable option, I recommend writing down the problem (and all of the negative thoughts associated with it) and looking carefully of each of the issues. Then, I recommend going through what you've written and asking the following questions:
What do I want to accomplish?
What does my ideal outcome look like?
What are my key questions or obstacles around that?
What strategies will help me overcome those obstacles?
This four-step questioning process allows your real answers, concerns and solutions to start flowing and will help you separate legitimate business concerns from personal feelings of self-doubt. If after some self-reflection, you're finding that your concerns are caused by insecurities or self-doubt, just remember that, though frustrating, these thoughts are completely normal. Thus, whenever I'm plagued by my own insecurities and self-sabotaging thoughts, I remind myself that I have—and will—get through whatever is thrown my way. You must always remember to be your own number one fan, even when it is difficult. After all, a successful business owner must value his or her self worth, believe in the power of positivity and not get weighed down by the moments of uncertainty.
Your The Leveraged Business Assignment
If you start to hear negative inner chatter, follow the four-step process to snap out of your self-doubt. Remind yourself that you can do what you are embarking on. If you still are in need of more encouragement, I suggest turning to books or videos that concentrate on the power of positive thinking. Then, let go of your negative thoughts and step into action. You've got this!
This is just one of the many best practices we dive deep into with the students of The Leveraged Business Business School, the premier training school for growth-minded entrepreneurs looking to quickly attract more clients and make more money. If you're interested in finding out more, visit www.ClientAttractionBusinessSchool.com for more details. To speak to an enrollment coach, click here.