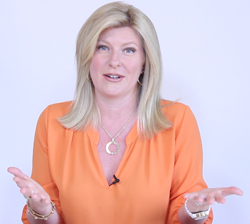 One of the things I've noticed over the last 10 years is that the people who are the most successful in business are those whose businesses are aligned with their life's purpose, their mission or their calling. Why? Because when you align your business with why you're here on earth, you are more passionate about your work. People feel that and are attracted to your business as a result. You also have more stamina and perseverance and are willing to do whatever it takes.
I'd like to share a passage from Ralph Marston's Daily Motivators on this subject that really resonates with me:
"Where there is purpose, there is energy. Actions directed toward a compelling purpose will create a powerful momentum that lines up events and circumstances in your favor. Purpose gives you a reason to get going each day and strengthens your determination to persist when the going gets tough. Purpose pushes you firmly toward your highest level of accomplishment."
I couldn't agree more.
When you weave your life purpose into your business, you attract more ideal clients. (Click here to tweet this.)
In fact, in my live events and workshops, as well as in the Client Attraction Business School, our students gain even greater clarity on what their purpose is. This is one of the reasons they become so much more successful so quickly, in addition to all the marketing best practices, systems and business models we teach them in the curriculum and coaching within the business school.
Watch this week's video to discover how you can start aligning your business with your mission. I'll share with you exactly how I did this…and how you can too.
Your Client Attraction Assignment
If you're not already, get clear on your purpose and mission behind your business.  Once you know what it is, plan out what you will do to align your business with your mission and passion. How will you begin to weave it in? How soon can you get started?
This is just one of the many best practices we dive deep into with the students of The Client Attraction Business School, the premier training school for growth-minded entrepreneurs looking to quickly attract more clients and make more money. If you're interested in finding out more, visit www.ClientAttractionBusinessSchool.com for more details. To speak to an enrollment coach, click here.