ARVE Error: need id and provider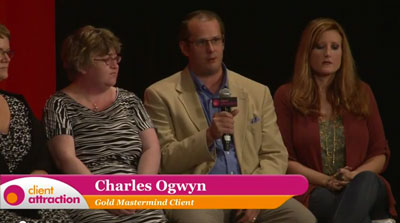 Charles Ogwyn of MyInternetMarketingPartner.com shares his experience as a Gold Mastermind client in the Client Attraction Winners Academy.
"A year ago I had a nice corporate job that was extremely stressful. But, it wasn't what I wanted and I needed a way out. The prospect of starting a business from scratch and at the same time having the responsibility of a wife and children to provide for – it was totally overwhelming. I didn't know exactly where to go forward.
Well, here I am a year later from having quit my corporate job – and I just finished my biggest week ever in my business. The whole experience of entrepreneurial freedom has been life changing. I love being able to see my girls and have breakfast, lunch and dinner with them. Clients send me testimonials that touch me deeply when I hear the impact my contribution has made in their lives.
The Gold Mastermind helped me implement and the accountability is absolutely crucial for keeping me moving forward. The program propels me to implement and move forward faster.
Looking back, I had all the cliché reasons not to join, "I can't afford this. People will think I'm crazy." After meeting Fabienne at my first meeting I was absolutely 100% convinced that she is authentic, the real deal. I'm so glad that I stepped out of my own way to join."