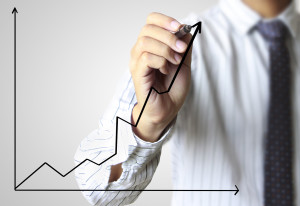 How do you know when it's time to raise your rates? I found the best system was to raise my rates as my business started to fill. Once your company is growing and you are in high demand, it's easier (and feels safer) to raise your rates.
1) Test your pricing on new clients
I began letting my rates creep up with new clients who signed on. At one point, I was increasing my fees every three to four months. I would wait to see if there was any resistance from the prospect I was speaking to, and when there wasn't, I raised the fee again. This is a great way to test your pricing rather than taking your rates up in one big jump.
2) Grandfather current clients
Another thing I did was "grandfather" my existing clients to hold their rates steady. This was important to me for clients who had been with me for a while. This just feels like the right thing to do in most cases. Generally your clients commit to working with you over a series of months at a particular price—sticking with that is fair and appropriate.
One thing you want to do is ask current clients not to discuss their rate when they make referrals, so you can freely charge new clients the higher rate. Even if someone comes to you expecting the lower rate, I still advise that you stick to your new rates to be consistent with all new clients.
3) How to increase fees with current clients
If you want to raise your rates with your current clients, I recommend giving them quite a bit of notice. With a few months' notice, they'll have time to adjust to the idea. Be sure to explain any new services they'll be receiving at the new higher fee so they can easily see how they'll benefit from the change.
4) Add value to your offering
If you do start encountering some resistance to your pricing, it can help to throw something into your new package that wasn't available at the lower price. Try offering a bonus that doesn't cost you more time or money. You might have home study courses or other materials you can add to create higher value without taking up a lot of your time.
Your Client Attraction Assignment
When I started my business, I decided to go with a lower rate to encourage people to sign up. That might not be the right thing for you and your business. I recommend doing a little research to see what your competitors are charging and go with the average rate offered in the market place. This is a solid pricing strategy. You can do this again when you are ready to increase your prices.
This is just one of the many best practices we dive deep into with the students of The Client Attraction Business School, the premier training school for growth-minded entrepreneurs looking to quickly attract more clients and make more money. If you're interested in finding out more, visit www.ClientAttractionBusinessSchool.com for more details. To speak to an enrollment coach, click here.