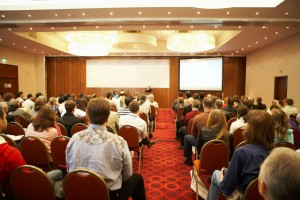 If you are a small business owner who runs live events, you're probably wondering how to get more people to attend. Obviously, the more seats that are filled, the more people you can help and the more sales you can make.
At The Client Attraction School of Business, we use a number of methods to spread the word about an upcoming program. Below are five tried and true methods for boosting your event attendance. I encourage you to try one – or be bold and try them all!
1. Email your list
We rely heavily on email marketing, as this is one of the best ways to stay in touch with both current and potential students. In order to make sure you are targeting the right people for local or regional events, you need to have your email list geographically segmented so that you're reaching out to the people who live in or near the city where the event is being held. We typically send out a few messages for each event.
2. Post cards
People send and receive an average of 121 emails per day, meaning that many messages unfortunately go overlooked. When you send a post card by good old-fashioned snail mail, however, it's more likely to get noticed and actually read. Showing up in this unexpected place helps you stand out from the pile of bills and coupons. Post cards have been an effective marketing tool for years and continue to deliver good results. To use them, your list needs to include physical addresses, not just email addresses. That's why it's a smart practice to collect both from new contacts.
3. Referral marketing
We ask our clients to share details about our events with friends and family who might be interested. Clients are encouraged to spread the word via social media, by forwarding emails, or even by picking up the phone and inviting a friend to attend. Obviously, the goal is for each existing client to bring along a potential new client. You can even add an incentive for those who bring a guest, such as extra time with you or a complimentary product.
4. Social media
Naturally, we announce our upcoming events via social media. We have friends, fans and followers on all of our social media pages (Facebook, Twitter, LinkedIn, etc.) and like to share a unique message for each individual page. We'll post multiple updates leading up to the event to reach more people. Remember, people live in different time zones and are active at various times of day, so don't limit posts to your business day.
5. Facebook ads
Facebook advertising is great because you can adjust the targeting. You can choose age, income, gender and geography along with various other factors. We run a variety of ads on Facebook that appear in the area near the event location. This has worked really well in cities where our email list is not as strong. We've reached tons of new clients we ordinarily never would have met this way, so I highly encourage you to consider using targeted Facebook ads for your next event.
Your Client Attraction Assignment
If you are planning an event for your business, take time to map out all the ways you can announce it. Don't forget about partners who might also help you promote your program. The more people who know about the program, the more seats you will fill. That's a big part of running a fabulous event.
This is just one of the many best practices we dive deep into with the students of The Client Attraction Business School, the premier training school for growth-minded entrepreneurs looking to quickly attract more clients and make more money. If you're interested in finding out more, visit www.ClientAttractionBusinessSchool.com for more details. To speak to an enrollment coach, click here.