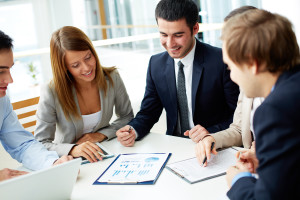 As a business owner, you have to make a lot of tough decisions. One of them is when to let someone go or hire someone new for your team. If you plan this well, you can create a system for employee transitions, having the person who is leaving actually train your new hire.
Let me share an example. One of my students followed this series of steps for bringing on a new social media manager.
1. Put training in the contract. In the employment contract, a new team member is made aware that part of the responsibility will be to train a replacement should you part ways. This sends a clear message that people will explain duties and responsibilities of the position before departing the company.
2. Create a checklist. Have your current team member develop a checklist for all training that will be covered. This will work like a table of contents and can go at the beginning of all documentation for the position. For social media, you would include how often to post on each platform, details if you use a scheduler, credentials and passwords, etc.
3. Write an operations manual. Have the employee write the operations manual for the position, explaining all duties and responsibilities. This must be specific, going over all the actual tasks they complete as part of that job. Now you'll have a handbook so someone new can look up how to do a particular task. Documenting the duties is extremely helpful for creating a smooth transition between employees and having a reference guide once the transition has been completed.
4. Set up a calendar for upcoming projects. Have your new team member work with your outgoing employee to create a calendar of the projects that are coming up. This ensures everything is planned and organized so your new employee knows what needs to be accomplished without any gaps. For example, with social media, you can plan Facebook posts that cover promotional messaging, content sharing and posting of photos for a few months into the future.
5. Schedule web sessions. If your team is not on site, using software like GoToMeeting allows employees to share screens for training purposes. This is excellent hands-on training so the new hire can see exactly how things are done. Many people learn best by actually going through the steps.
Here are a number of safeguards to keep in mind:
• On occasion, when there is a problem with an employee, make sure there isn't going to be a lot of animosity while training the new hire. If you pick up on this, you may need to rethink your training process.
• Watch over how the training is going. Ask your new hire if there are any unanswered questions.
• Make sure your operations manual document is locked, so that once it's finished, no one can change it or sabotage the process.
• Be sure to review the manual to ensure everything is in there and nothing gets left out or overlooked.
Your The Leveraged Business Assignment
Do you have training or operations manuals for all the positions in your company? If not, make that one of the goals for your next 90-day plan. This is a big project for your employees, so be sure you give them enough time to complete it and do a thorough job.
This is just one of the many best practices we dive deep into with the students of The Leveraged Business Business School, the premier training school for growth-minded entrepreneurs looking to quickly attract more clients and make more money. If you're interested in finding out more, visit www.ClientAttractionBusinessSchool.com for more details. To speak to an enrollment coach, click here.